The John Kitchen Centre at Linden Grove is a residential post-detox hostel for men and women who have found their lives unmanageable due to the destructive effects of addiction to alcohol and drugs. Our priority is those who are homeless.
The hostel has 24 single rooms (16 en suite) and is staffed 24/7.
DETOX SERVICE REVIEW
We are currently reviewing and reorganising our Detox Programme. The Kairos programme has been operating successfully and without significant incident for over 20 years, with our clients' concerns always paramount. We aim to continue to provide detox treatments to the highest clinical standards once our review is completed.
Meanwhile, we continue our core work with rehab, supported housing and aftercare but we will not admit new clients for detoxification for the time being. We work closely together with other local detox units to ensure smooth transition from detox to our residential rehab programmes.
Please note, we are continuing to take people post-detox into our Linden Grove hostel so they can participate in the Kairos Garden Day programme at 66 Nunhead Lane.
Our objectives
We aim to provide a supportive, non-judgemental, safe, sober and clean environment where individuals can begin to rebuild their lives, to examine what has led them to this point and to try to put into place a new structure in life without alcohol or drugs.
We achieve this by providing…
■ registration at local GP surgery and health checks
■ weekly in-house GP surgery
■ a full needs and risk assessment for each person
■ one-to-one work with support worker and agreed support plans
■ support, advocacy, advice and facilitation to enable people to address issues around mental and physical health, legal and financial concerns
■ in-house cooked meals
■ opportunities for healthy social activities, eg camping, sport, away-days
■ introduction and involvement in self-help groups, such as Alcoholics Anonymous, Narcotics Anonymous, Cocaine Anonymous and Gamblers Anonymous
■ access to further and ongoing professional care/support
■ extensive stabilisation/aftercare support
■ a residential base for clients accepted on the Garden Day Programme, two minutes' walk away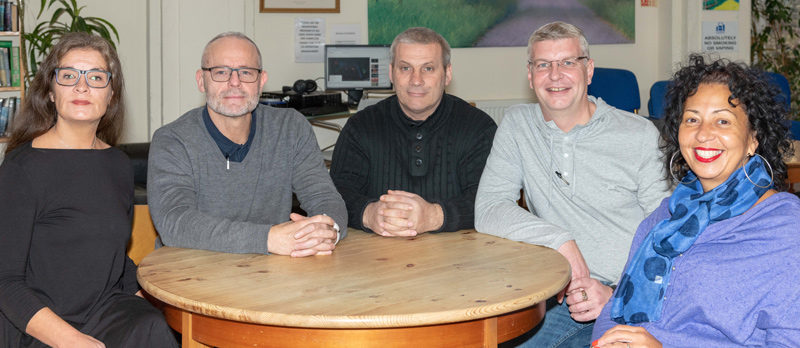 Linden Grove line-up, L-R: Sam Chapman (MBACP, IGA Foundation); Vincent Mahe, Assistant Manager (Level 5 Health & Social Care); Adrian Gibson (Level 3 Health & Social Care); Simon Woods  (MBACP, Level 5 Health & Social Care); Lorraine Beckford, Manager (MBACP Accred., Diploma Therapeutic Counselling, Diploma Clinical Supervision, Level 3 First-line Management).
Referrals to Linden Grove
Referrals are usually taken from the client's social worker, doctor, welfare worker (eg at hostels, day centres etc). Clients can also self-refer. Initial referral by phone is preferred.
Assessment and admission procedure
■ Client and Kairos assess mutual suitability
■ Agreed date for admission
■ Medical assessment by doctor (multi-agency common SM assessment)
■ Completion of admission documents, background information, contract etc
■ Explanation of our programme, the client contract and house expectations
■ Introduction to peers and members of staff and orientation of the building
On admission, each resident is assigned a support worker who advises about practical problems such as benefits, legal issues etc. A vital part of these sessions is to put the resident in contact with appropriate outside agencies and services.
Looking forward, every effort is made to access funding for further rehab and ongoing treatment where it is appropriate and it is the expressed wish of a resident.
Please note that a waiting list is in operation and there are no emergency admissions.
Cost
Housing benefit is applied for on admission with help of a support worker.