Bethwin Road is a post-detox, residential 12-Step treatment centre providing a 12-week programme of rehabilitation for men and women with drug and alcohol problems. Clients benefit from community living, peer support and gain life skills through participating in the running of this 16-bed Victorian house in Camberwell.
Our objectives
We aim to enable individuals to learn new ways of life free from chemical dependence and to fulfill their unique potential.
Features of our service
■ Individual treatment planning with regular reviews
■ One-to-one counselling
■ Daily groups and workshops
■ Art therapy
■ On-going medical care with the project's doctor
■ Relapse prevention classes
■ Health education
■ Life skills training
■ Leisure activities
■ Kairos encourages the use of self-help groups such as Alcoholics Anonymous, Narcotics Anonymous and other 12-Step fellowship meetings
■ Holistic treatments such as acupuncture, massage and meditation classes
■ Family visits are encouraged
■ Family therapy – professional counsellors support family members in understanding the nature of addiction, identifying their role and the concept of co-dependency within the relationship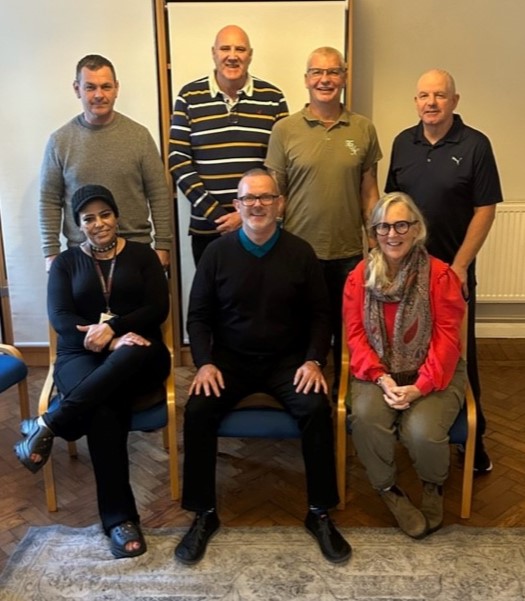 THE BETHWIN ROAD TEAM
Clockwise from left: Dominic O'Gorman, Deputy Manager & Admissions (NVQ3 Health & Social Care/Adults, Substance Misuse); Chris Farnell (MBACP); Simon Woods (MBACP, Level 5 Health & Social Care, Clinical Supervisor); James Hopkins, Night Support Worker (NVQ3 Diploma Health & Social Care); Estelle Carroll (MBACP, Level 4 Diploma in Therapeutic Counselling); Lee Slater, Manager (MBACP, RMA); Hafida Soltani (catering).
Eligibility for Bethwin Road
■ Initial referral by phone from the client or professional (usually from the client's social worker)
■ All applicants must have been detoxed and be committed to staying clean and sober for the duration of treatment. Detox is not provided at this location, clients must be at least one week drug and alcohol free
■ Reports from other agencies may be required, eg discharge summaries, community care assessments or psychiatric reports
■ Referrals are accepted from all sources, including self-referrals
Assessment and admission
■ Interview to assess client risk and suitability. The programme, client contract and house expectations are explained and prospective residents can see the house and meet other residents
■ Client and Kairos assess suitability for the programme, agree date for admission on confirmation of funding
■ Completion of admission documents and contract
■ Introduction to peers and staff
■ Handing over locker keys and showing client their room
Please note that there are no emergency admissions
Cost
The current cost is £677 per week (£8,124 for the 12-week programme).