Kairos offers supported abstinence-based accommodation to men and women who have completed detox and rehab. We also have provision for individuals who are 28 days abstinent and are committed to their recovery. Kairos has 28 Move-on houses with 180 beds located in the London Boroughs of Brent, Lambeth, Lewisham, Merton, Southwark and Wandsworth. Residents are supported in their continuing recovery and steps towards independent living in the wider community.
Kairos houses are family-size houses in the community, ranging in size from four to 11 bedrooms. We have responded to residents' needs with houses dedicated to clients with complex needs, a women-only house, a working house and a long-stay house. We have a strict policy of abstinence. The support is classified as low-support but a support worker is available 24 hours a day through our on-call system. Residents can apply for our free Kairos+ counselling service.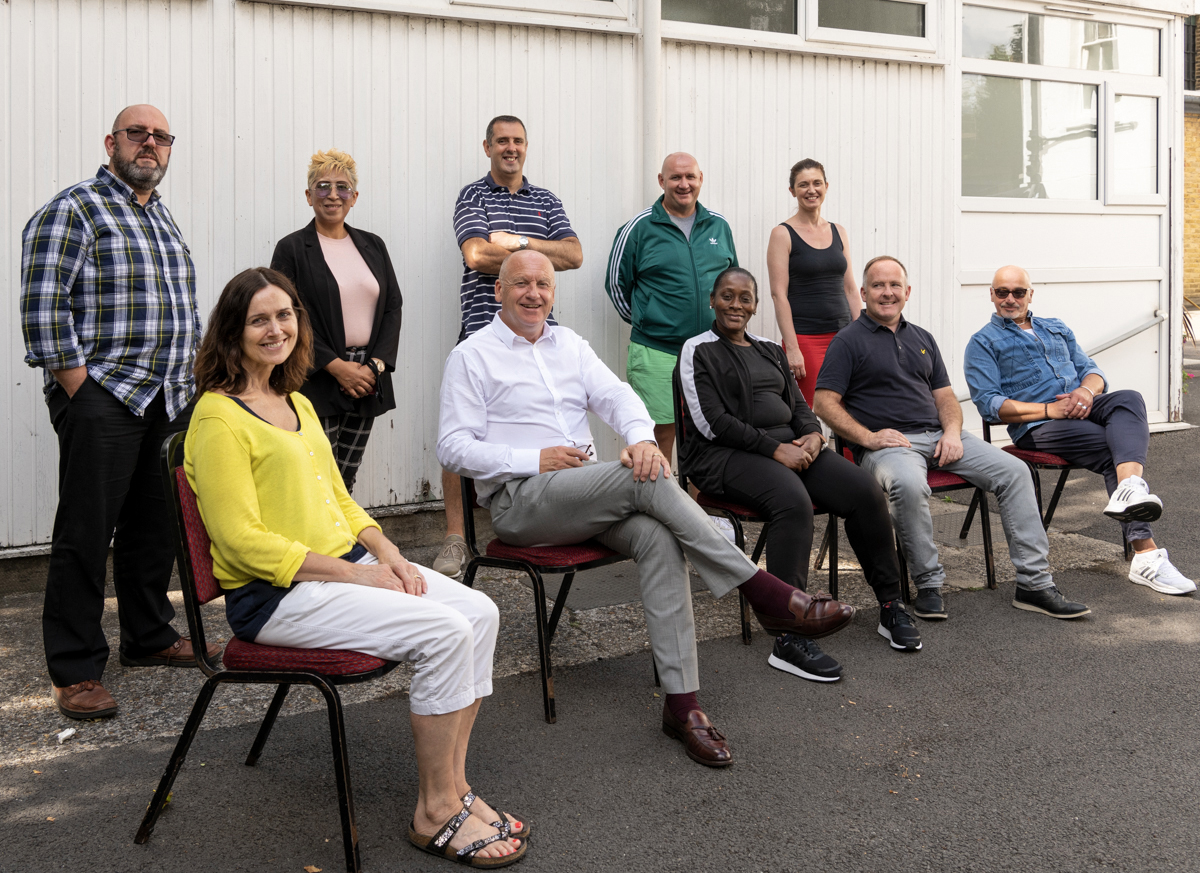 THE TEAM THAT PUTS THE 'SUPPORT' INTO HOUSING
The Kairos Move-on Team. Front row, L-R: Gillian Lyons, Matt Dear (manager), Hester Bell, Jason O'Reilly, Giampiero Mozzi. Back row, L-R: Jaime Soto, Liz Frampton, Lee Vines (deputy manager), Frank McDonald (criminal justice lead), Louise Fitzgerald. Not pictured: Martina Cooley (complex needs worker), Jessica Rodmell.
Kairos move-on houses offer home and support for people who are committed to remaining clean and sober. To help this happen, we…
■ support each person in their gradual transition from a highly structured rehab programme towards an independent lifestyle
■ agree with each resident a support plan to help them maintain good general health, abstinence, build on therapeutic experience, enjoy social outlets and develop support mechanisms
■ support a resident's commitments to previous providers, eg ongoing counselling at Bethwin Road, or with designated aftercare and day programmes
■ offer continued positive peer support as a self-help mechanism
■ prepare people for independent living
As a resident, you will have…
■ your own room and front-door key
■ your own support worker and individualised support plan
■ opportunity to apply for our free counselling service, Kairos+
■ housemates who share your motivation
■ your own licence agreement
■ support into the workplace
■ support around moving on and into independent living
■ access to voluntary work and leisure activities
■ advice and support to access education
DEDICATED SUPPORTED MOVE-ON HOUSES
■ The Women's House provides female-only supported housing on request.
■ The Workers' House is for residents who want to begin the process of returning to work.
■ The Prisoner Response Project supports residents' recovery not only from drugs and alcohol, but also from the causes and consequences of past offending.
HOW CAN I GET A PLACE IN A KAIROS SUPPORTED MOVE-ON HOUSE?
■ If you are already engaged with the Kairos hostel at Linden Grove, our Bethwin Road residential rehab, or the Kairos Garden Day Programme ­– you can become eligible to be assessed for a place.
■ External referrals. Kairos Community Trust accepts referrals from across the UK and beyond. Referrals typically come from other rehabs, medical and social services, prisons and families.
■ Self-referrals by individuals who are 28 days abstinent and committed to remaining clean and sober.
GENERAL ELIGIBILITY
We accept applications from men and women who…
■ are homeless
■ have substance misuse related problems
■ have completed detox and a rehab programme or are 28 days abstinent and committed to their recovery
■ are willing to engage in a planned, appropriate and agreed period of support
HOW TO APPLY
For a referral form, contact the Move-on Team by phone, email or letter.
COST
Our supported housing is mostly covered by Housing Benefit. However, this will depend on a client's own financial circumstances. There is a small charge to the resident per week towards the cost of gas and electricity.