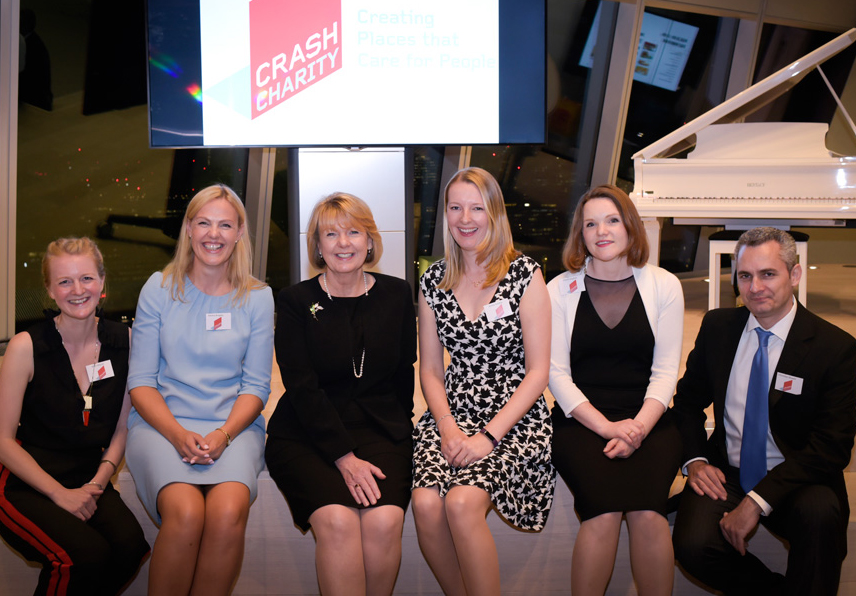 Kairos director Mossie Lyons was among the guests at CRASH's annual Patrons' Reception last Thursday night. Every year, the construction and property industry's charity for the homeless holds an event to celebrate the companies and individuals who have given their valuable time and resources to support its cause.
In this, its 20th Anniversary Year, CRASH has distributed a total of £562,202 worth of support and materials across 45 projects throughout the UK – including Kairos Community Trust – enabling them to create places that care for homeless, vulnerable and terminally ill people.
Reflecting on the evening, Mossie Lyons says: "What a view of the city from the 19th floor of UBM's head office at 240 Blackfriars Road – the setting for CRASH's Patrons' evening. My pervading feeling during the evening and my later afterthought was, 'I am standing in the presence of goodness and generosity'. CRASH, each year at this event highlights the vital contribution their patrons make in helping them provide assistance to charities like Kairos Community Trust, which work with the rehousing of homeless people. They provide assistance at three levels – building materials, professional help, and grants. The amount of money raised during the year by Patrons is amazing.
"The evening was capped with touching presentations and food and drink to gladden any heart. Congratulations, CRASH, on 20 years of generosity!"