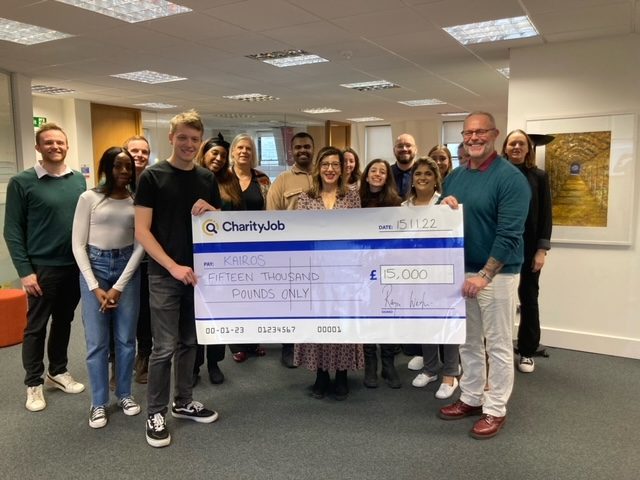 A few weeks ago, I received a call from a stranger who said he was from an organisation called CharityJob, writes Vincent Mahe, manager of Linden Grove. The caller said their panel had decided to make a donation to Kairos Linden Grove. Imagine my surprise… honestly, I didn't believe it.
However, not long afterwards I found myself heading to Norbiton in Kingston. And suddenly there I was, accepting a giant cheque for £15,000 on behalf of Kairos, surrounded by a happy bunch of CharityJob workers, sharing a big smile to capture the moment.
And Kairos was not the only lucky beneficiary of CharityJob's generosity that day: another charity was there too, one that works with individuals and their families affected by Down's Syndrome. They had come to collect a similar donation.
After having chatted to the CharityJob team, I understood how it had come about. A gentleman called David, working in the CharityJob IT department had put Kairos forward for a donation. Kairos's vision, hard work and dedication resonated with him and he wanted to celebrate this. He also knew someone living in one of the Move-on houses.
In these difficult economic times, this wonderful gift couldn't have come at a better moment. So, thank you, Dave and the CharityJob team from the Kairos Linden Grove team!
CharityJob.co.uk is the UK's largest and most specialised job board carrying non-profit, NGO, social enterprise, CIC and voluntary jobs. "As the first charity specialist job site in the UK, we demonstrate nearly two decades' worth of insight and personal experience, aligning passionate candidates with inspiring organisations."