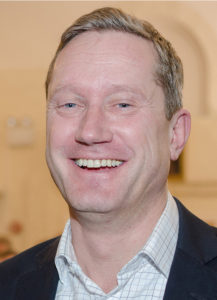 Kairos Community Trust is proud to welcome Dr Jasper Mordhorst to our board of trustees. A GP specialising in addiction, he brings expertise and enthusiasm in equal measure.
Dr Mordhorst first got to know Kairos when he was a GP in Peckham with a practice providing medical services to our Linden Grove community detox hostel. He says, "Having trained in the field of substance and alcohol misuse, I had gained experience with other providers in the field but the approach I found at Kairos was different from any I had seen elsewhere. Residents were not only given a room, clean sheets, warm meals and the option of a new start but maybe more importantly respect and lots of love: the formula for Kairos's success.
"I hope that I can contribute to strengthening this remarkable organisation for future challenges."
Dr Mordhorst MRCP, PhD, MRCGP, DRCOG, DFSRH first trained as a physician in sexual health and HIV medicine and describes general practice as his second career. "Although I continue to work sessionally for a London teaching hospital, I have never regretted becoming a GP." He now practices in Vauxhall where he continues to provide specialist services to a local hostel.