RAPt (the Rehabilitation for Addicted Prisoners Trust) has been working with Kairos for the past two years to support former offenders in their sobriety and integration back into the community. Here, Hattie Moyes, RAPt's research and development manager, reviews this successful and ongoing partnership.
RAPt is the leading provider of intensive, abstinence-based drug and alcohol rehabilitation programmes in British prisons. RAPt works to help people with drug and alcohol dependence, both in prison and in the community, overcome the grip of addiction and lead positive lives, free from drugs and crime.
RAPt and Kairos Community Trust have been working in partnership for two years, supporting RAPt service users on release from prison into the supported housing service provided by Kairos. This partnership has made a positive difference in supporting offenders reintegrate into the community, as evidenced by our joint outcomes from October 2013 – October 2015:
58% of RAPt referrals have remained abstinent
Of whom 21% are now living independently and/or with their families
37% are still living at Kairos and positively engaging with ETE and/or volunteering and working towards independent living
Fewer than one-third have relapsed or been evicted
10% left supported housing without providing further information
These figures show how effective the partnership working between RAPt and Kairos is in supporting offenders reintegrate into the community free from offending and substance misuse. – H.M.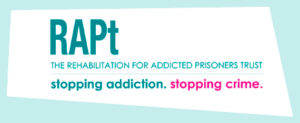 For more information about RAPt: www.rapt.org.uk