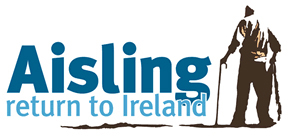 Three Kairos residents have been home to Ireland on holiday this summer to reconnect in recovery with family and friends, thanks to the Aisling Return to Ireland project.
For one Kairos man, this was his first trip home in sobriety. "It was a momentous visit for him," says John Glynn, the Aisling outreach worker who led the trip. "It had been many years since he had visited Ireland sober. We enabled him to travel by train to see his mum in the north-west and kept in touch daily."
"When I met my mum first," says D, "she didn't recognize me, then she just started crying and hugging me – she kept telling me how good I looked and how proud she was of me.
"The two of us sat in her house for two days just talking. My mum has not seen me sober since I was 16 years old. We talked non-stop and I realized in that time I never had a conversation with her for more than five minutes. She kept telling me how good it was to have her son back and I know now that I have found my mother again.
"It was the best experience I have had in my sobriety and I owe a big thanks to Kairos, Aisling and especially John Glynn for giving me this opportunity."
"For everyone," says Glynn, "the week was packed with excursions in between relaxing, chatting, cooking and eating together and, of course, sun permitting, swimming and sun bathing on Dunmore East's sandy cove.
"AA was on the agenda, as was the pictures. On the Friday night before we left, all of us enjoyed a meal out. Coincidentally, the owner of the restaurant is in the fellowship – we didn't know this when we booked our meal."
The Aisling Return to Ireland project reaches out to Irish people who find themselves vulnerable, isolated and alone. One way it does this is to provide supported holidays to Ireland. Over the years, Aisling has been a good friend to many Kairos residents, helping them to fulfill their dreams of seeing home again and, in the process, to regain self-confidence and peace of mind. For more information about the Aisling Return to Ireland project, visit www.aisling.org.uk.