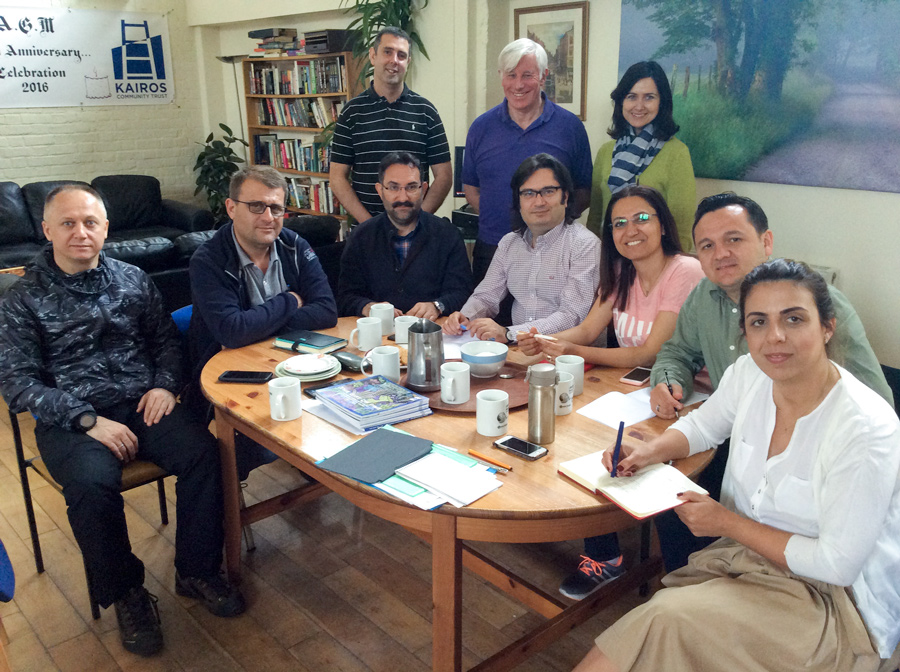 Kairos was proud to welcome a delegation of addiction treatment professionals from Turkey, who visited Linden Grove on Tuesday, writes Tim Penrice.
Led by psychiatrist and advisor to the Turkish Ministry of Health, Professor Kultegin Ogel, the team comprising psychiatrists, doctors, social workers and criminal justice workers were on a fact-finding mission to learn how rehabilitation services are delivered in the UK.
They had already visited Dr Mike Kelleher at the Maudsley Hospital, and heard about the medical and psychiatric treatments provided there for those addicted to drugs and alcohol. He had recommended that they visit Kairos to see how the therapeutic community approach to detox and rehabilitation worked.
As we showed them around Linden Grove, this warm and friendly group were impressed by the facilities and by the amount of specialized care and length of time that addicts receive in their recovery at Kairos.
The delegation told us about the Turkish approach to addiction treatment which, unlike in Britain, is mostly hospital based and falls under the responsibility of the Ministry of Health. At present there are about 36 treatment units across Turkey and their goal is generally to help clients achieve a drug-free state; after in-patient detox, some cognitive therapies are provided to prevent relapse.
The stigma of drug addiction in Turkey, as in the UK, is a powerful force for keeping people from asking for help but, our visitors told us, they did not have as big a homelessness problem as we do in the UK because family bonds are closer.
The Turkish drug problem is particularly intense among the young, they said, and when our director Mossie Lyons asked what provision there was for older addicts, the grim response was: "There aren't very many because they mostly die before they get old.''
Pictured above: seated, Adnan Öztürk, Ministry of Internal Affairs; Yusuf Öztürk, Head of Alcohol, Drug Policy Department of Turkish Ministry of Health; İbrahim Karakaya, psychiatrist; Professor Kultegin Ogel, psychiatrist, adviser to MoH; Rabia Bilici, psychiatrist, head of Erenkoy addiction treatment centre; Mustafa Kemal Cetin, doctor at the Alcohol, Drug Policy Department of MoH; Gamze Sacakli, social worker, Alcohol, Drug Policy Department of MoH. Kairos, standing: Lee Vines, support worker; director Mossie Lyons; support worker Gillian Lyons, lead on women's services.