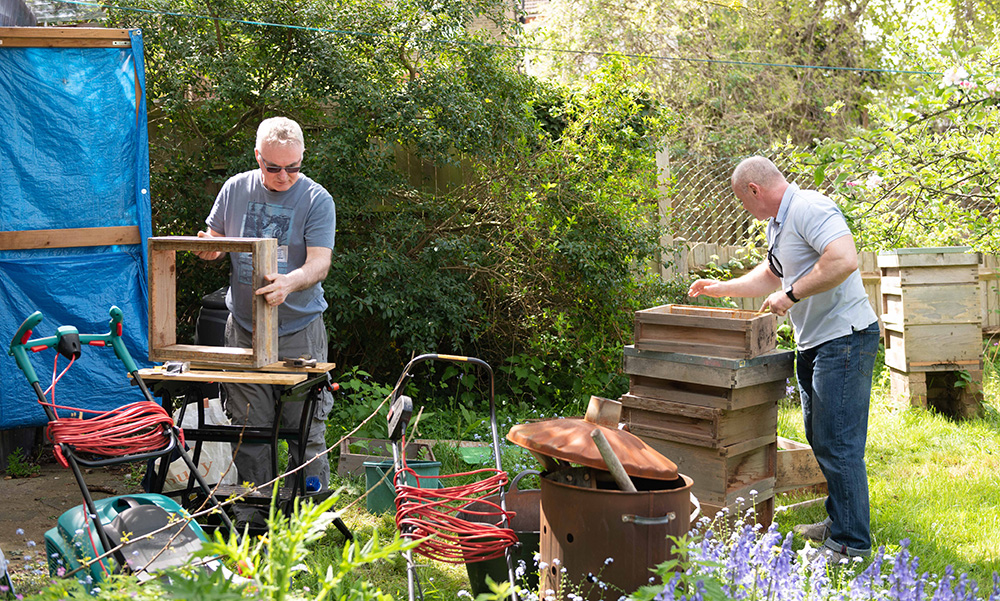 Kairos bees have produced a terrific honey harvest this year – double last year's at least. And, although there is yet to be an official weigh-in, those in the know are talking about a total of some 200lb from our nine productive hives.
This is a wonderful reward for all the work put in by Kairos beekeeper Neil and beekeeping guru Mick Coen from the Bromley branch of the Kent Beekeepers, who has been visiting Kairos hives most weeks.
Neil reports that we currently have 10 living colonies in hives spread over three locations: head office, Wandsworth and Streatham. Six of the hives are productive and the other four junior hives are doing well. The occupants of the most recent hive were enticed into permanent accommodation after a Kairos resident noticed their swarm, quite established in a bramble bush at the bottom of the garden.
"Bees have been around for 150 million years," says Neil, "and they can knock along all right. But the bees really do benefit from care and attention and are so much more productive in terms of honey. It's a lot of work cleaning and maintaining the hives but it's great to have a connection with the wider environment, even in an urban setting. And I do admire the bees' efficiency!"
What does this year's honey taste like? "We haven't had an official tasting yet. We kept the honey from each location separate, so we will have a honey tasting soon to see if we can taste the difference."
Thank you bees – and beekeepers – everywhere!