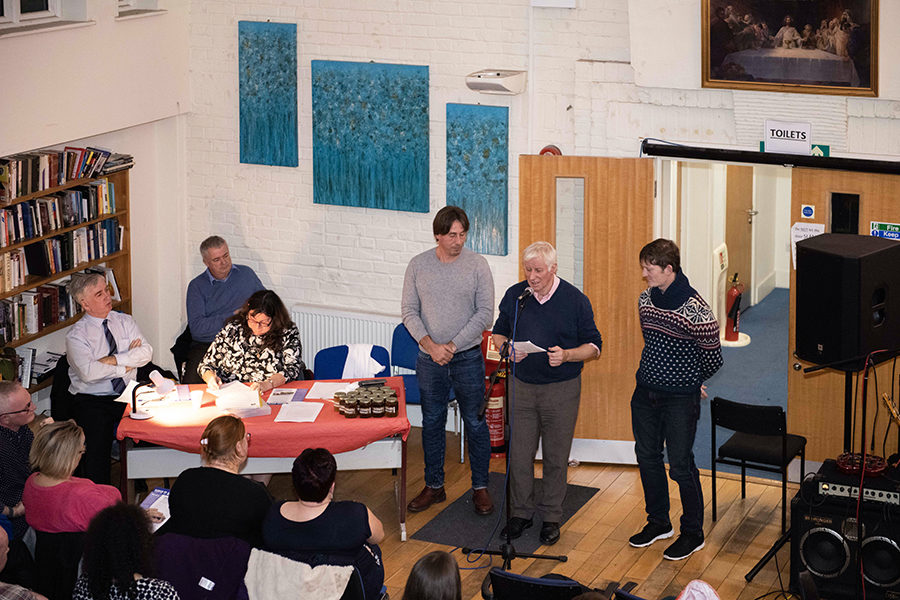 Achievers of 2019: Mossie with Tarquin and Brendan.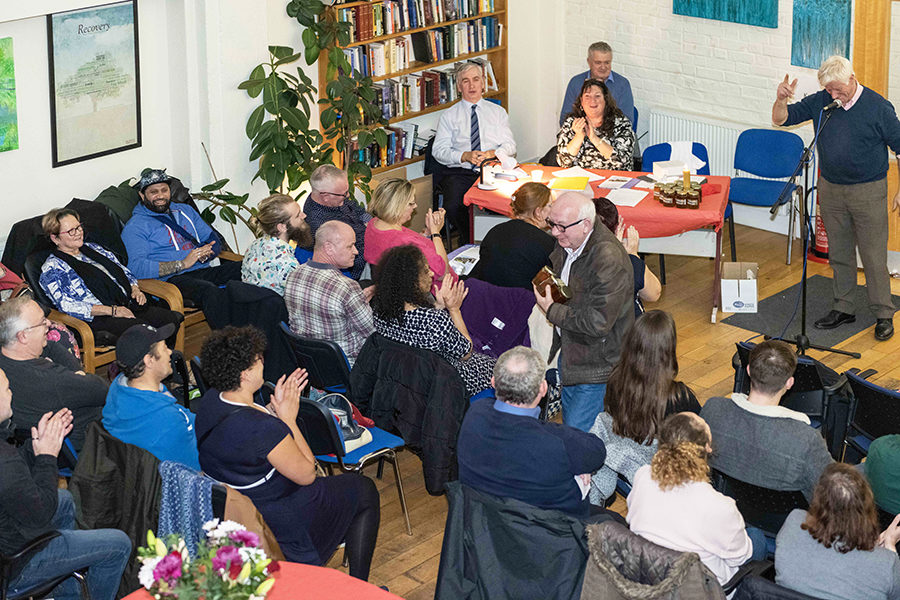 John Glynn of Aisling Return to Ireland returns to his seat laden down with jars of Kairos birthday honey.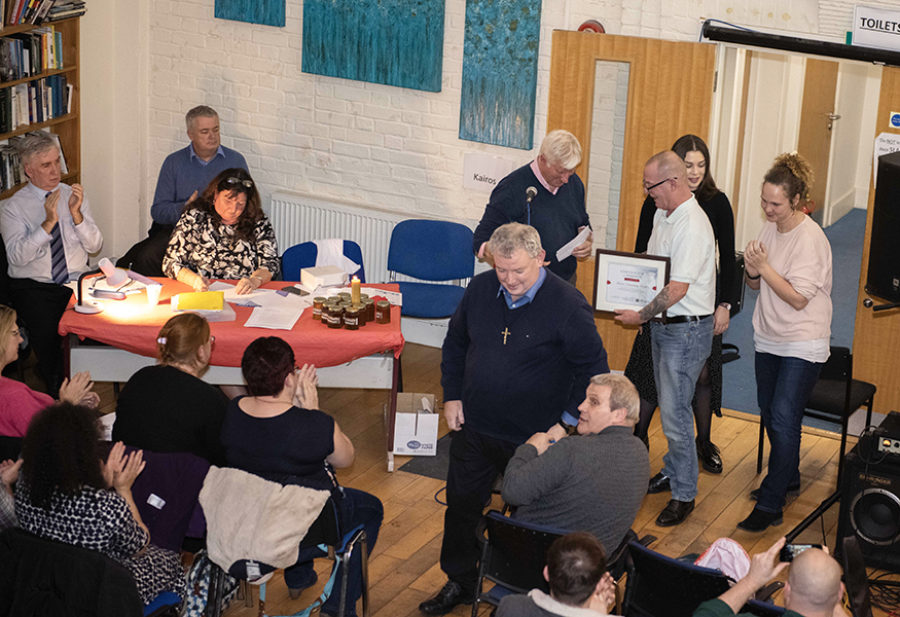 Martin, who was on the first Kairos trip to Lourdes 10 years ago, receives a commemorative certificate from the visiting Oblates group.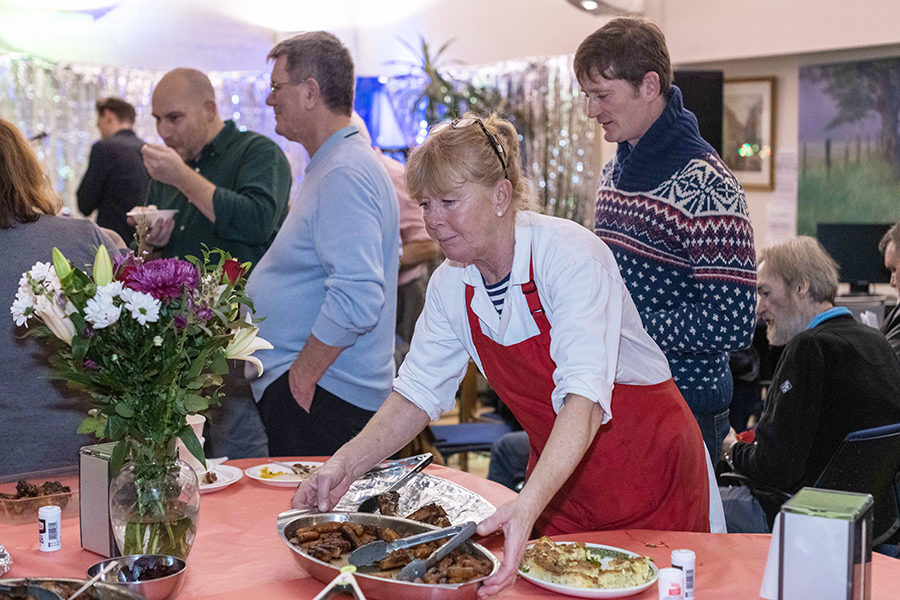 Sandra Ginnelly, who has been nourishing recovery at Kairos for 25 years, replenishing the AGM buffet.
A year of health, wellbeing and recovery – 'to the power of 10'
It was standing room only at the Kairos AGM at Linden Grove last week (26 Nov), reports Rory O'Connell. Coping with change and the challenges that go with that were very much a theme of the evening. Chairman of Trustees Paul Carter thanked Lorraine Beckford and her Linden Grove staff for once again hosting the event. New treasurer John O'Sullivan thanked outgoing trustee Robert Finlay for his 15 years' service to the Kairos Trustees and his gratitude to Financial Controller Oye Oke and her team for their accounting efforts. WSM Auditors Ltd were re-appointed as company auditors.
Former resident of Bethwin Road Alison S set the scene for us with an inspiring resident's-eye view of Kairos's work as she described coming to Kairos 18 years ago: how it provided the "opportunity to unpack years of chaos" and how she was "enveloped and supported" by staff and peers. Alison even produced her Bethwin graduation certificate with the handwritten comments from staff.
In a wide-ranging review of the past year, Director Mossie Lyons focussed on acknowledging people and groups who had surmounted challenges or worked on behalf of Kairos over the year. In April, former Kairos resident Tarquin White ran the London Marathon for Kairos in 4 hours and 8 minutes. Setting off at the end of May, another former resident, Brendan McGill, cycled 1,777 miles around the island of Ireland (without a puncture). Awarding them Kairos mementos of their achievement – and in thanks for their fundraising efforts, Mossie said they embodied "the best qualities of what Kairos does… in health, wellbeing and recovery".
After lighting a candle made from Kairos's own bees' wax, the meeting remembered lives lost during the year, including our friend and volunteer Paddy Ryan.
Mossie's tributes included special mentions for the Aisling Return to Ireland project and the construction charity CRASH for their support of Kairos over 25 and 14 years respectively. Aisling runs an annual Kairos trip enabling Irish men to return to Ireland after a long gap an­d John Glynn accepted a consignment of Kairos honey in gratitude for his work and to mark his recent birthday ('one with a zero in it' as Mossie put it). CRASH and its patrons have supported Kairos for over 14 years with design, management and materials for the development of Kairos properties. Mossie welcomed Simon Child and Moni Rahman of Child Graddon Lewis architects who, as CRASH patrons, have been so instrumental in the Limesdale Gardens project in Brent, most recently adding five bedrooms to one of the three neighbouring houses there.
Sandra Ginelly has been the 'Kairos cook' for 25 years this year, and the award marking her service had to be delivered to the elusive Sandra through the kitchen hatch! Kairos founder Fr John Kitchen was also present, bringing together two of Kairos's longest-serving figures.
Thanking the Head Office staff of Valley Road for their staunch support and administrative work, Mossie noted that the Head Office staff now have combined service of more than 60 years to Kairos. He also thanked Marsha Dunstan and Rory O'Connell for their work on the Kairos website and archive.
He mentioned a number of Kairos activities that all somehow involved the figure 10. These included Kairos's 10 beehives which yielded 200lbs of honey this year, carefully stewarded by beekeeper Mike Coen of the Bromley branch of the Kent Beekeepers, who initially came to advise but has returned weekly ever since to work with the project. In the past 10 years, the charity Veterans Aid has referred more than 140 former servicemen and women to Kairos and thanks went to VA's Head of Addiction Services, Phil Rogers.
This year was the 10th Kairos trip to Lourdes to assist with the Oblate pilgrimage of the Anglo-Irish Province and 40 people from Kairos went to assist. Lorcan, Cormac and Ciara from Dublin were welcomed to the AGM and they presented Martin F, who was on the very first trip, with a commemorative certificate in gratitude for past and present Kairos residents who made the journey. The Kairos dedicated women's house is celebrating its 10th year in 2019.
Volunteers are a vital part of the Kairos community and two Kairos members were commended for their efforts in the wider local community: Claire McCabe was awarded Disabled Volunteer in the recent Southwark Stars awards and Dave Newman has been nominated for Lewisham Volunteer of the Year.
A new service began a pilot this year: the Kairos + counselling service for residents of Move-on houses means that Kairos can now offer post-rehab counselling.
After the Sandra's splendid AGM buffet, the Kairos house band Contraband, led by Linden Grove assistant manager Vincent Mahe, continued to surpass their own challenges, bringing Pink Floyd and Stevie Wonder together (musically) amongst others, for the enjoyment of the remaining guests.