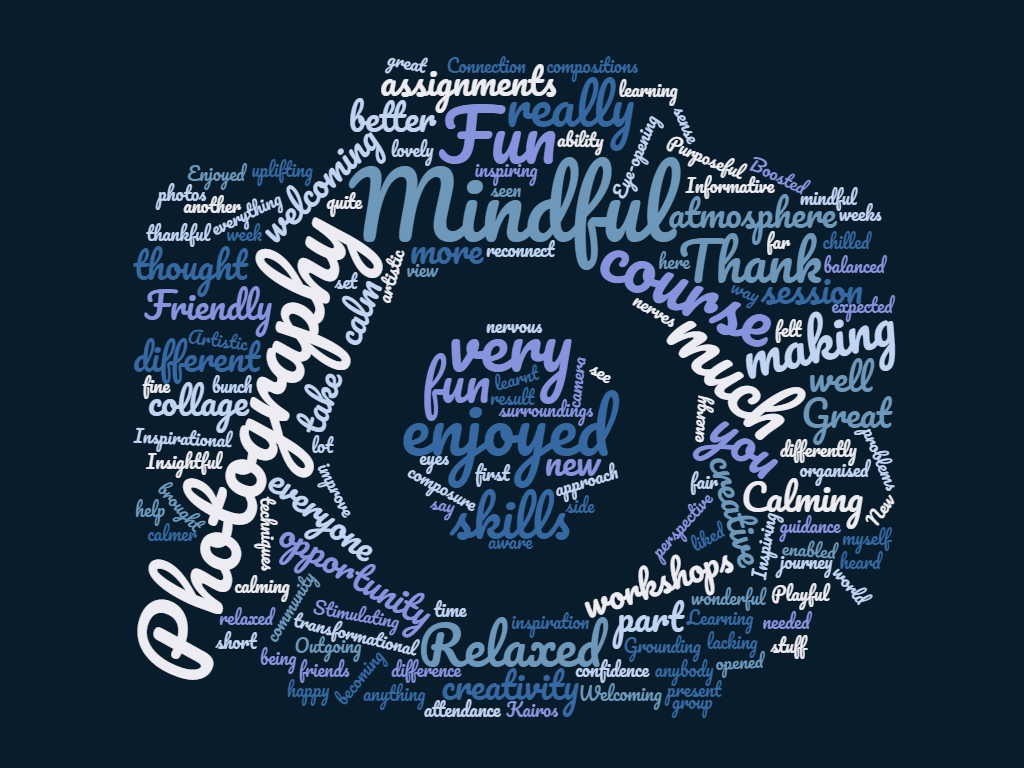 "Each week the assignments opened my eyes to see the world differently, from another perspective…"
Kairos residents recently combined meditation and photography in an eight-week series of Mindful Photography workshops, led by Pierre Bureau of Mindful Photo Lab.
In each two-hour session, the group learnt new photography skills while exploring meditation and mindfulness.  They experimented with diverse techniques, from using black-and-white to explore framing, to capturing reflections in colour and crafting collages. 
Using only smartphones, fifteen participants explored Nunhead Cemetery and Peckham High Street – Kairos' local community – as well as other well-known landmarks, such as Southwark Cathedral and the Tate Modern.  Among the highlights was a botanic garden and photography exhibition hidden within the brutalist architecture of the Barbican Centre.
The grand finale was a group-curated exhibition that showcased the quality, creativity, and diverse perspectives of participants' photos.  It celebrated the strong sense of community and fun that had characterised the sessions, with group members using words like 'connection', 'grounding', and 'inspiring' to describe their experiences.
A snapshot, in participants' own words…
"I got so much more from this than I expected.  It felt like the 8 weeks were a journey where I found myself becoming more present with the assignments that were set. [Thank you] for the help and inspiration."

"The atmosphere was very calm and had a wonderful energy."

"Thank you so much Pierre.  Your mindful approach made all the difference.  It brought calm, composure and enabled creativity!"

"At first I was quite nervous, but the group was so relaxed and welcoming, so the nerves were much calmer after a short time."

 "I really enjoyed the creativity, guidance and sense of community!"