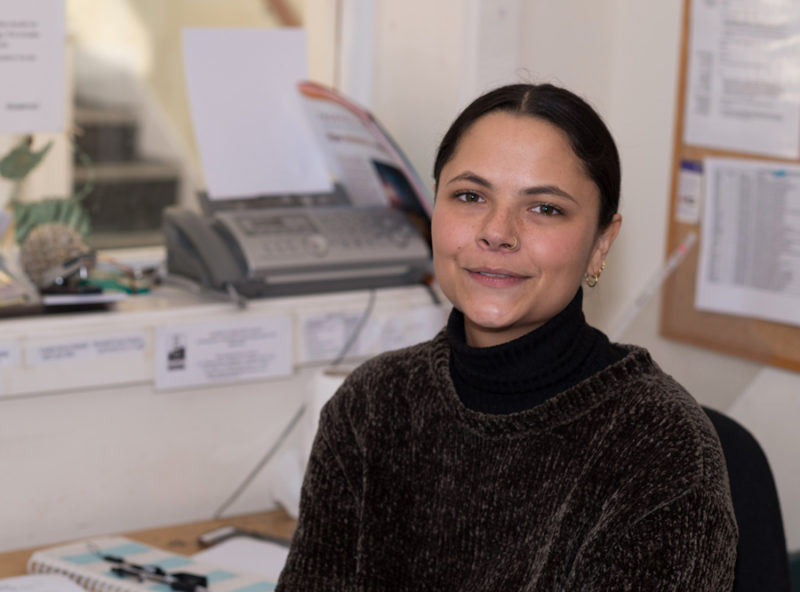 What does it take to sit behind the front desk at Linden Grove? To be gate-keeper and receptionist, all the while fielding a constant stream of random enquiries from residents and staff?
In Miriam Kilpatrick's case, it's a BA in fine art and an ambition to train as an art therapist. She's been volunteering at Linden Grove since September.
"After I finished my fine art degree a couple of years ago, I was carrying on with my own art practice and working to sustain myself but I wasn't sure what my next big move would be. Then a friend introduced me to Kairos.
"Volunteering here has helped me in lots of ways! I have grown as a person. And for the first time, I've felt calm in a work environment and felt such honesty in a workplace. Working in a therapeutic community environment has given me the insight to realise that art therapy is the direction I want to take. I'm a conceptual artist and I make work around our relationship with food and I am very interested in how we can use art to heal ourselves."
As part of her preparation for starting an art therapy MA at Goldsmiths, she will be working as a health care assistant on a two-weeks-on and two-weeks-off basis, but we'll still be seeing her every fortnight. Good luck, Miriam and see you soon!