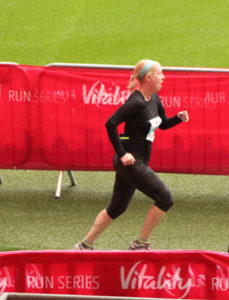 Our thanks to Elaine Anderson-Wright for supporting Kairos again this year when she runs the Brighton Marathon on Sunday, 9 April. Last year, Elaine completed the 26.2-mile course in 4 hours 41 minutes and 34 seconds, and raised more than £1,000 for Kairos.
With less than a month to go now, Elaine's upped her training and last Sunday she ran the North London Half Marathon (left). "It was amazing, such a brilliant atmosphere. There were 6,000 runners and the finish line was within Wembley Stadium. I was really pleased with my time. I wanted to do it under 2 hours and I managed it in 1 hour 57 minutes and 27 seconds."
Remember, you can follow Elaine's progress on this news page and the Friends of Kairos Community Trust Facebook page.
And sponsor her run in support of Kairos through Elaine\'s MyDonate page. MyDonate is a free, secure online giving service that takes no commission on donations, so 100% of your sponsorship will reach Kairos Community Trust.