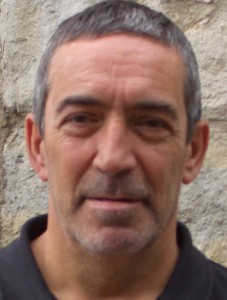 Everyone at Kairos who knew Perry Robinson has been very saddened by his untimely death. Here, as Rev Katharine Rumens, the Rector of St Giles' Cripplegate, remembers him, we recognise with a smile our own much-loved friend.
"Perry Robinson came to us in December 2006. We were in search of a caretaker and I was asking around. Ann, Head teacher at St Luke's Primary School, said that she knew the brother of their caretaker was looking for work. 'He's really helpful.' Perry started almost straight away.
"He said he was fine about working in a church. This was a source of amazement to all his family. We job-shared him: he was a school caretaker either end of the day. Perry soon began to call St Giles' 'my church.' There is probably not one corner of the building that he did not know. Up on the roof, in the ringing chamber, down in the boiler house. He moved the pews, put up tables, set out chairs for concerts and services and got cross when there were coffee grouts in the dishwasher. He knew about all sorts of things from plumbing to wiring, and if he didn't know, he had a friend who did. On Fridays he helped get ready for Sundays, not that he ever got the hang of calling the priest's wafer anything other than 'that biscuit'.
"After concerts, clients would make a point of passing on thanks Perry for his cheerful help. He talked to everyone. I'd come over to meet the wedding couple or group organising a carol service. Perry would say, 'We're getting on so well, do you want me or Katharine to take your service?' and I'd have to say, 'Perry they couldn't possibly afford your fees, let me do it.' It didn't matter who we were; we were all treated to the same egalitarian friendliness.
"Perry networked for us – not that we always needed the degree of networking that he provided. Lunch with staff at the school, meeting his companions in the car park or going up the market to sort something out in the church hall. We are discovering quite how many people knew and loved him.
"These past months were hard for Perry: there was surgery that should have happened but didn't due to complications which only made sense when cancer was diagnosed. The family is grateful for the care that Perry received at the end of his life and we are thankful that we had the chance to say our goodbyes to a much-loved friend and colleague."
Perry's funeral will be on Thursday (10 March), at St Giles' Cripplegate Church, Fore Street, London EC2Y 8DA. No flowers by request of his family, who have most kindly suggested donations to Kairos Community Trust instead. This can be done through the Donate link on this website.