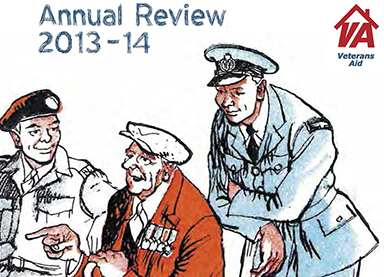 People arrive at Kairos from all walks of life. Since 2008, a total of 79 ex-servicemen have been admitted to our Linden Grove community detox hostel, referred by the armed forces charity Veterans Aid.
In this time, we have come to work closely with VA to find the best pathways to recovery for our shared homeless and addicted clients, many of whom have continued on through one or more of the Kairos rehab, aftercare and supported housing services.
In his report for Veterans Aid 2013-2014 Annual Review, VA's substance misuse worker Phil Rogers acknowledged the importance of "building strong relationships with services which, notably, are not veteran-specific" – like Kairos Community Trust.
How Kairos started working with veterans is a story that begins in 2002, when Geoff Stott came to Kairos for therapy. After finishing the programme at Bethwin Road the following year, he volunteered at Linden Grove for three years. Geoff then got funding from the Poppy Factory charity to work as a liaison worker between Kairos and veterans services, which he did with great dedication until his sudden death in 2009. It was Geoff whom we have to thank for initiating contact with Veterans Aid, which led to our relationship with Phil Rogers. Now, 79 veterans later and still counting, we are proud to be mentioned in dispatches.
For information about Veterans Aid and to read the report, visit www.veterans-aid.net.