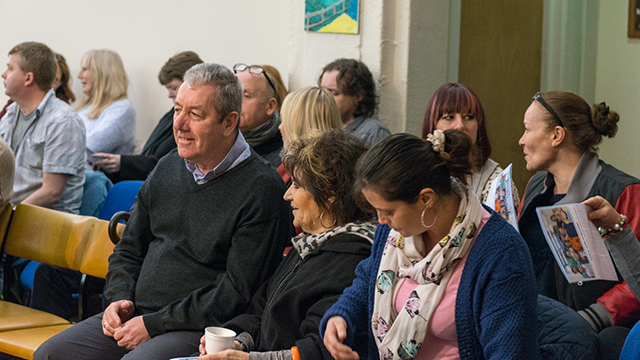 Linden Grove, 25 November 2014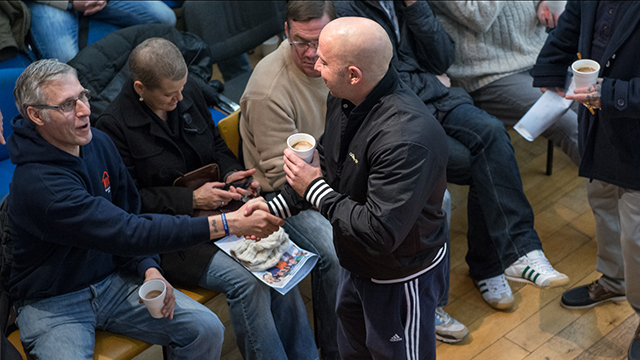 Linden Grove, 25 November 2014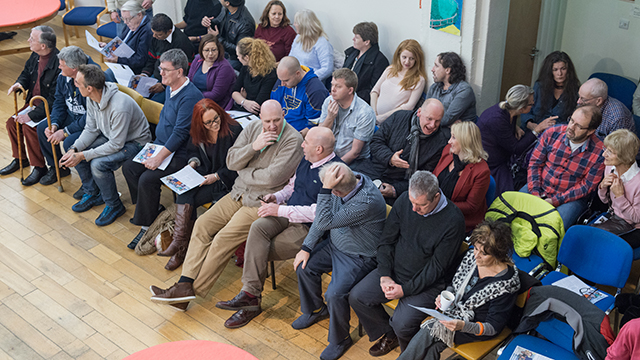 Linden Grove, 25 November 2014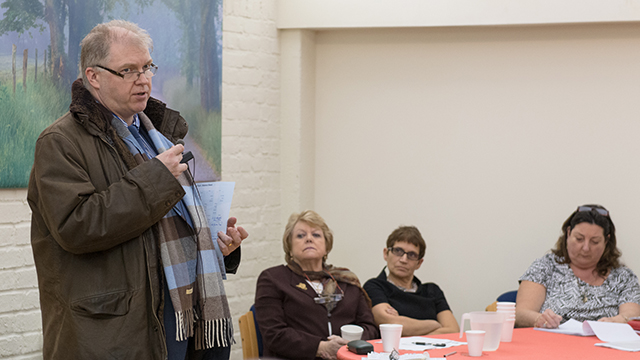 Dr Michael Heneghan of the Institute of Liver Studies, King's College Hospital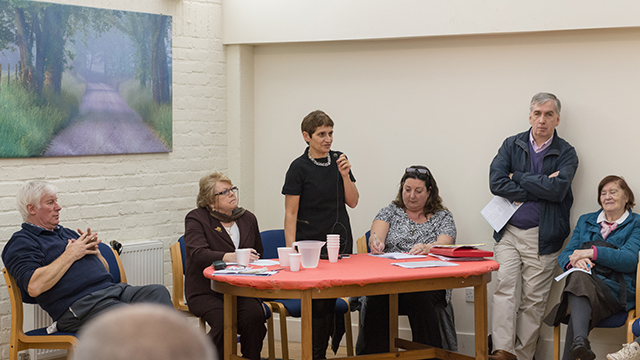 Kairos patron Dr Clare Gerada addressing the AGM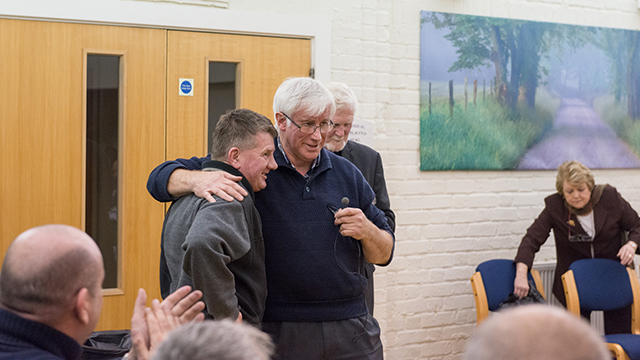 Toddy O'Donnell receives the John Kitchen Award from Mossie Lyons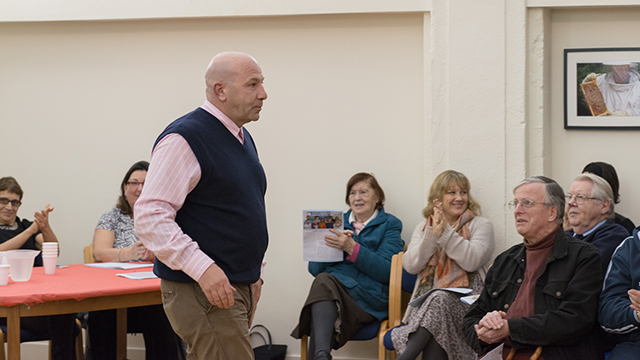 Applause for Move-on manager Nick Messikh's speech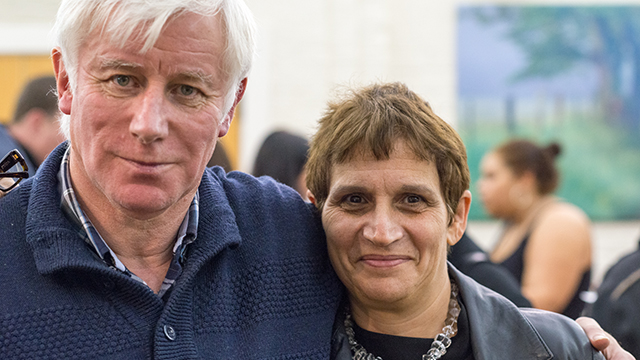 Kairos patron Dr Clare Gerada and director Mossie Lyons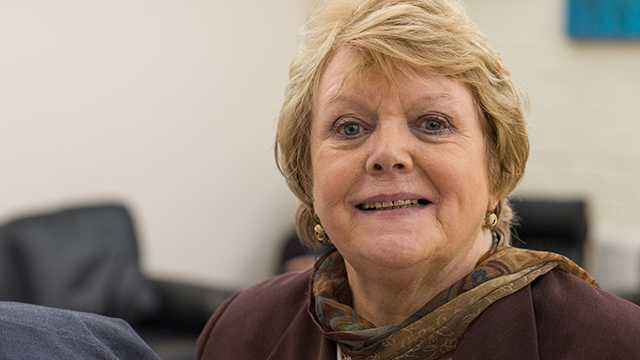 Hanora Morrin, Chair of Trustees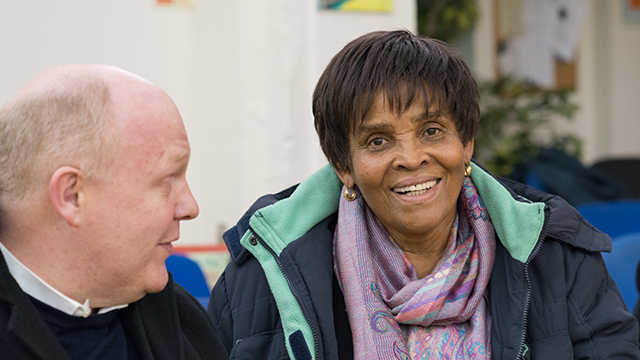 Mona Gardier, who leads the Medjugorje pilgrimages, with Aiden O'Kane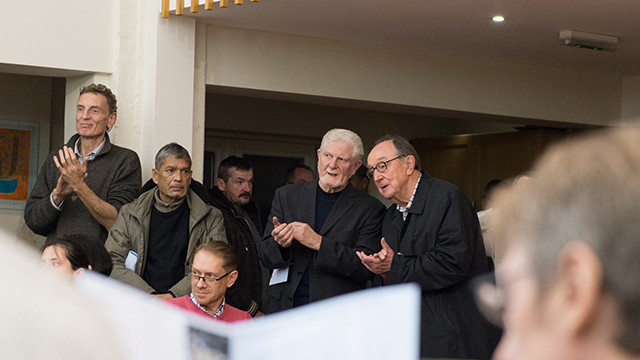 Kairos Community Trust's 23rd Annual General Meeting was held at Linden Grove on the evening of 25 November. The dining-room was full to overflowing with past and present residents and staff, volunteers, friends and supporters who had come to hear about how Kairos had fared in 2014 – and to meet up with old friends.
Chair of Trustees Hanora Morrin and trustee Paul Carter confirmed Kairos is in good shape (click to download our Annual Report, right) and they thanked financial controller Oye Oke, staff and volunteers for their hard work. Director Mossie Lyons spoke about regaining health and emotional and spiritual values in recovery; he also highlighted the continuing involvement of Kairos residents in creative projects such as The Sound of Yellow with the Young Vic and the Addicts' Symphony on Channel 4. Co-founder Fr John Kitchen reminded us of how Kairos has grown from its early days as a soup kitchen and the first house in Stonhouse Street.
The guest speaker this year was Dr Michael Heneghan, Clinical Director for Liver Services, Consultant Hepatologist and Reader in Hepatology at the Institute of Liver Studies, King's College Hospital in nearby Denmark Hill. He outlined how the hospital was one of the most important centres for liver transplants and treatment in Europe and how it wants to make more contacts in the local community. Its viral hepatitis service already treats more patients with hepatitis B and hepatitis C than anywhere else in the country. Good neighbours indeed for a charity offering drug and alcohol treatment services to the homeless.
Other speakers were Nick Messikh, Move-on manager, and our patron Dr Clare Gerada, MBE. For each it was their second Kairos AGM and coincidentally both spoke about the importance of client care. Nick reflected on how satisfying it was to be part of an organisation that put clients at the heart its work; Clare about how impressive Kairos staff were in caring for clients.
For the second year, Mossie Lyons presented the John Kitchen Award for Outstanding Service, this time to Toddy O'Donnell, a much-loved volunteer whose many skills include those of car mechanic, catering assistant and caretaker. Originally from Co Tipperary, Toddy has been part of Kairos since 1992.
Thank you to everyone who contributed to the success of the AGM, including admin manager Dorothy Woodward-Pynn; Frank Smith, manager of Linden Grove; Rose Nash and Judy McLellan for raffle-ticket duty; and to Sandra Ginnelly and her team for a splendid buffet.