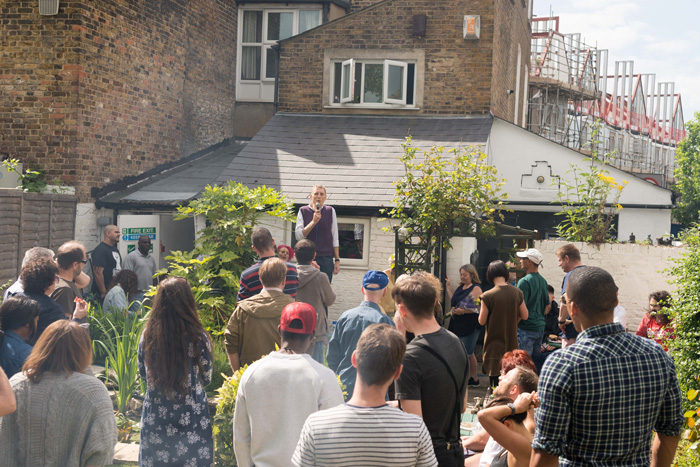 The political fallout from the General Election was a long way from our minds on Friday (9 June), as the charcoal began to glow and the salads and sausages were marshalled for the 60 or so guests who arrived hungry at our Nunhead Lane garden, writes Tim Penrice, Garden Day Programme manager.
The annual GDP summer BBQ celebrates Alcoholic Anonymous's birthday and addiction recovery with the intention of having fun without drink and drugs. It's exactly the sort of shindig most alcoholics would once have contemplated with horror, if they had to do it sober. So it's wonderful to see – and be part of – a warm, sociable, supportive, sober, fun and nourishing atmosphere that really felt like a celebration.
Ricky G played the music all afternoon with a deft touch that began with Stevie Wonder's Happy Birthday. Sandra F and Gillie Sliz, who had done the food shopping and preparation, made sure everyone got something tasty to eat, and Mossie and John P worked the tongs and barbeque in the heat and smoke of outdoor cooking.
Thanks to all of you for your work and the spirit in which you did it. The food garnered many compliments, as did the garden, which looks as good as it does because of the hard work and dedication of Brian C (thank you, Brian).
Thanks also to all our guests who came from far (Woolwich Service Users Project aka WSUP) and wide (Richmond and Camden Social and Housing services), and all those who made it around the corner from Linden Grove, and our move-on houses.
Our BBQ is going from strength to strength as it also becomes a GDP reunion but, first and foremost, it remains a Kairos Community celebration of all the wonderful recovery work that goes on mostly below the radar in south-east London.
Keep coming back – we look forward to seeing you all there again next year!