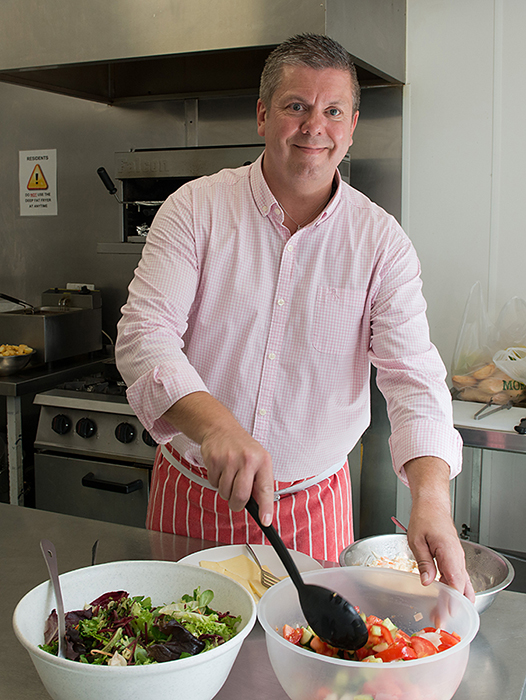 Keith Muir talks about his job as part-time cook and support worker at the 16-bed Kairos residential rehab at Bethwin Road, and the importance of good food in recovery.
"I first came to Bethwin as a resident in 2009 and have returned over the years as a visitor and then as a volunteer. Kairos has supported me through my recovery – from primary care through to aftercare, move-on housing and occupational training – so I feel that I can bring both my personal and professional experience to the job.
"Here at Bethwin Road food, diet and a person's relationship to food are taken very seriously. We understand many clients are undernourished when they are admitted. This is very common, food is not a priority in active addiction.
"Our kitchen is open 24-hours a day, much like you would find in any 'home' environment and residents are encouraged to eat when they feel hungry. Having a contented full stomach can also help ease cravings.
"Our main meal times are structured, lunch is cooked either by Sandra Ginnelly or myself at a set time. The evening meal is prepared and cooked by the residents themselves. Diet is extremely important and we aim to provide fresh, locally sourced meats and vegetables at least once a day, as well as pasta and 'treat' foods every so often. We cater for all dietary needs, including specific religious requirements.
"Many of our clients have never cooked, so we help them learn this essential life skill – basic cooking, food hygiene and preparation techniques. We also look at how to eat well on a budget. Budgeting is very important as most of our clients are in receipt of benefits, so education around planning meals ahead, freezing, checking expiry dates, stock rotation and smart shopping all minimise waste and save money without compromising on taste and healthy eating.
"Food nourishes the body and mind, restores us to health and allows for social interaction within the house and when families visit. Like many things in recovery, we renegotiate how we do things and how we treat ourselves and our body is the first basic step – it is the first expression of self-love."
For more information about Bethwin Road and our other services, click on Treatment Services at the top of this page.