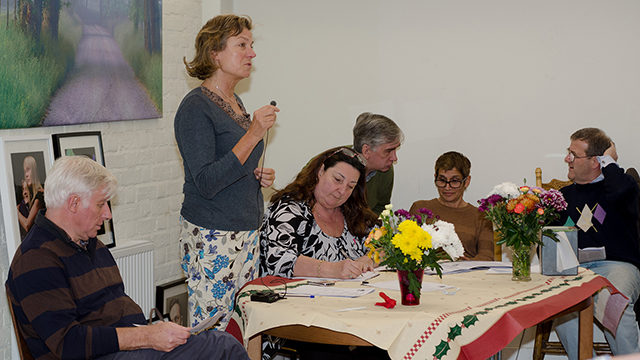 Trustee Sarah Potter opens the meeting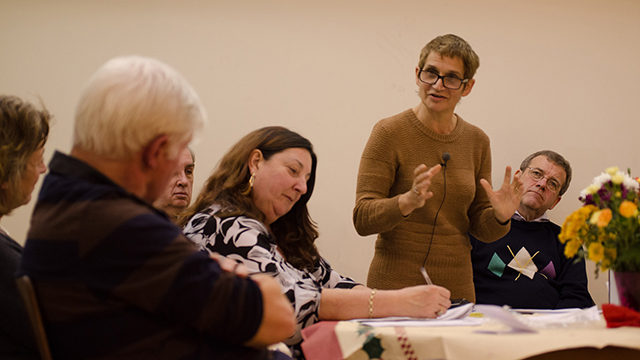 Dr Clare Gerada, our new patron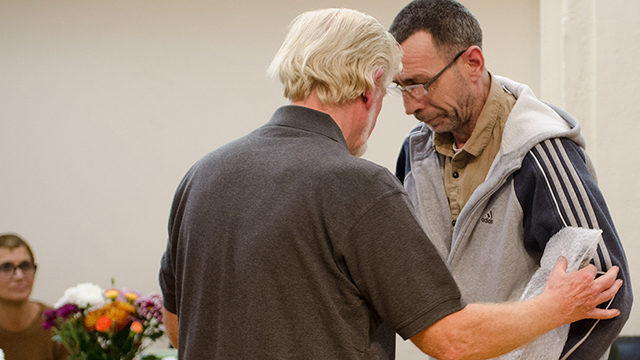 Fr John Kitchen presents Michael Brown with the Outstanding Service award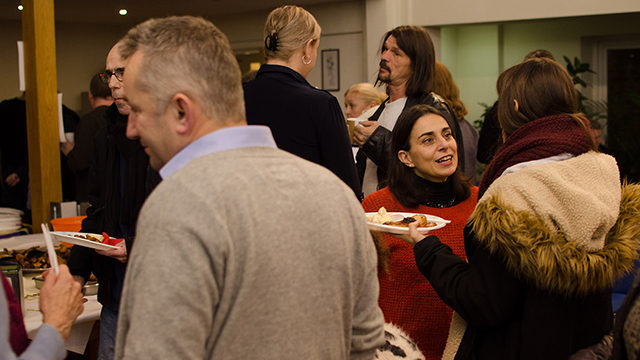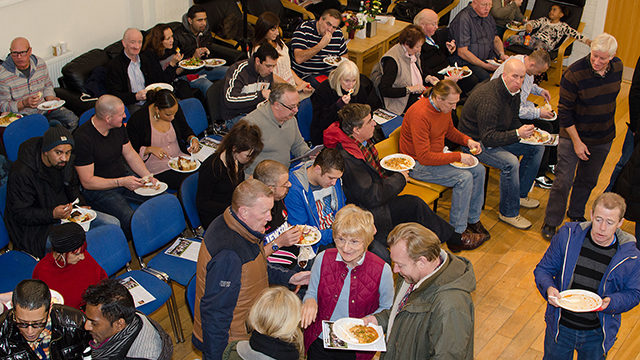 There was a great turn-out for Kairos Community Trust's 22nd Annual General Meeting, held on 26 November at Linden Grove. Residents and staff – past and present – trustees, benefactors, friends and supporters gathered to review and celebrate 2013.
Highlights of the meeting included the introduction of our new patron, Dr Clare Gerada MBE, FRCGP, FRCPsych (hon), FRCP. She spoke eloquently about her experience of and commitment to the care of marginalized, homeless and addicted patients – both are invaluable qualities she brings to Kairos as adviser and advocate.
To great applause, Kairos founder Fr John Kitchen presented Michael Brown with the John Kitchen Award for Outstanding Service. Michael came to Kairos on 30 May 2002 from Rugby House to spend three months at Bethwin Road. After only a few months in a Kairos move-on house, he returned to live at Bethwin Road in Christmas 2002 to mind the house for the then-manager, Mossie Lyons. Michael stayed on to become housekeeper and quartermaster, qualified in health and safety, medication dispensing and was fire warden for the 16-bed residential rehab that is regulated by the CQC. He didn't leave until 13 March this year when an ambulance took him to hospital after he suffered a stroke. Michael's home continues to be within Kairos, among friends.
Other landmarks in the year that were highlighted by director Mossie Lyons and other speakers included some of the events that readers of this News page will have noticed: the creative collaboration between Kairos and the BRIT School that resulted in the moving performance at Linden Grove of I think angels just saved me; the Buckfast Abbey weekend; the pilgrimages to Medjugorje and Lourdes; the honey harvest; the marriage of Bob and Susan Evans. Many speakers paid tribute to the late Rob Clements for his kindness and professionalism.
Thank you to all who contributed to the success of the AGM, including trustee Sarah Potter for stepping in at the last minute to chair the meeting and Sandra Ginnelly and her team for another wonderful buffet.