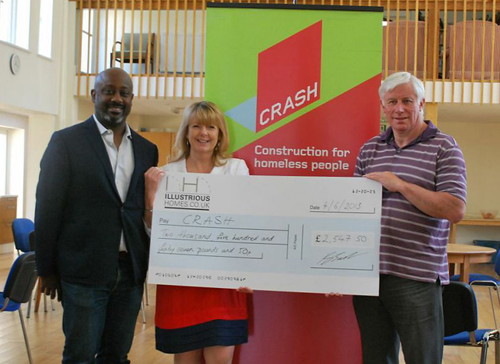 CRASH, the construction and property industry's charity for homeless people, recently chose Linden Grove as the location for Illustrious Homes, one of its patrons, to present a cheque to the charity. Kairos was proud to host the occasion and to welcome Francesca Roberts, CEO of Crash, and Kunle Barker, Managing Director of Illustrious Homes – pictured above with Mossie Lyons, director of Kairos.
CRASH has supported Kairos Community Trust over the past eight years, helping the trust to build and refurbish many of its houses. CRASH has given materials, financial and professional help in work carried out at Linden Grove, and Kairos houses in Bethwin, Eugenia, Guildersfield and Brixton Roads.
Last year, Mossie Lyons received CRASH's inaugural Tony Denison Award for Outstanding Contribution to Helping Homeless People. The award was named after the charity's founder and presented by his widow, Ann Denison.