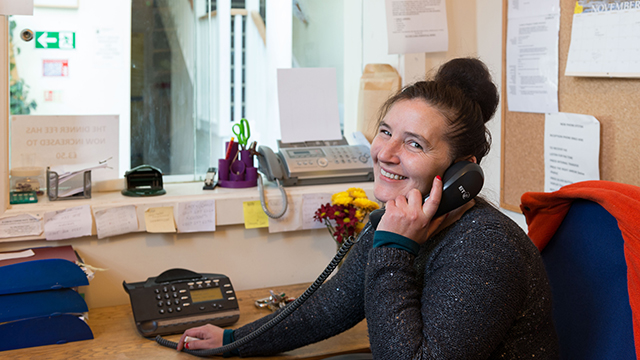 "Good morning, Kairos Linden Grove. Angie speaking…" From behind the front desk at the community detox hostel in Linden Grove, Angela Kirby reflects on her first four months as a Kairos volunteer.
"Okay, so I have been asked to write a bit about volunteering but what do I actually do as a volunteer? Sometimes I'm not entirely sure – it's a varied role that can be very different from one day to another.
"I spend most of my time in the front office, getting the door and answering the phone, making appointments, helping with benefit forms, filling in applications for referrals and taking weekly check-in calls.
"I do quite a bit of running around as well. I take residents to housing appointments and for assessments; I go to the GP to hand in new patient details, collect prescriptions and go to the pharmacy. I quite often help out in the kitchen with lunch and on a couple of occasions I have been thrown right in at the deep end there but everyone got fed.
"I spend a lot of time interacting with the residents, listening and talking about what's going on for them. I have a lot of recovery-based chats with them about treatment and fellowship and how to live life without drink or drugs.
"I really enjoy volunteering for Kairos; I get so much out of it. I feel so grateful to Kairos for all the help and support they have shown and continue to give me in my own recovery that it is a pleasure to give something back. However, I really had no idea when I started work in Linden Grove just how rewarding it would be. It gives an opportunity to put my NVQ qualification to good use and gain some much needed practical experience. My life has purpose and structure now and I feel so much more independent and empowered.
"Finally, I am starting to train as a support worker – kinda scary but I look forward to being able to give more and become more involved in working with residents."