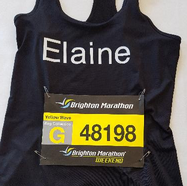 Our congratulations and thanks go to Elaine Anderson-Wright, who today ran the Brighton Marathon for Kairos, for the second year in a row. She completed the 26 miles and 385 yards in a time of 4 hrs 29 mins and 18 secs – a whole 25 minutes faster than last year and a personal best.
Elaine says: "It was very hot but bearable. I'm tired and my feet are sore but I am a happy bunny. Thank you everyone for your support!"
• Don't forget, there's still time to support Elaine's run with a donation to her MyDonate page.