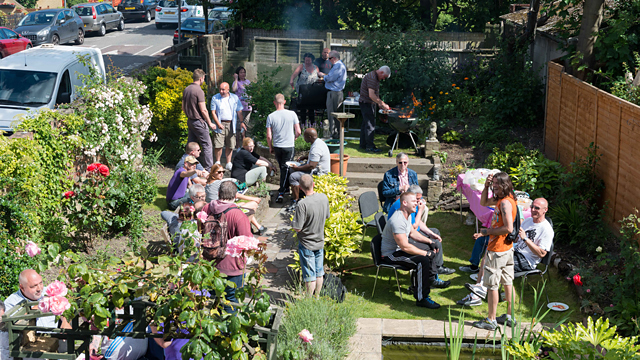 There was a great turn-out on Tuesday for the first Garden Day Programme Open Day/Reunion scheduled to coincide with Alcoholics Anonymous' Founders' Day on 10 June, writes GDP manager Tim Penrice.
Former clients, friends of Kairos and care professionals from Westminster, Greenwich, Lewisham, Southwark and Croydon were among more than 50 people who came to celebrate three years of the GDP and 79 years of AA. Much fun in the sun was had by all.
Mossie Lyons again demonstrated his versatility by flipping burgers and sausages and was wonderfully aided and abetted by Sandra and Nick. The success of the team's efforts meant that we ran out of food towards the end, but no one was hungry enough to make uncharitable suggestions about grilling our goldfish. In fact, one guest bought a bag of live fish for our pond – thank you, Peter!
Mossie summed up the day for all us when he said how good it was to see "so many sharing half decent food, a common journey and a link to their alma mater, humble in structure but rich in spiritual value. And who would have thought on the 4 January 2011 that the little shed would offer so many a chance of a new life."
Thanks to all those who worked so hard to make it such success this year and a definite diary date for 2015.