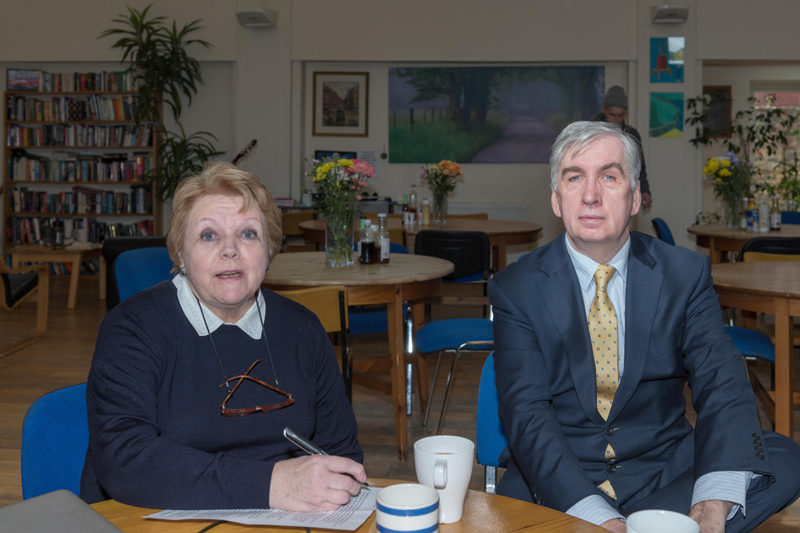 This month Hanora Morrin, Chairman of Kairos Community Trust for the past 12 years, has stepped down to rejoin the Board of Trustees, and Trustee Paul Carter has stepped up to take over as Chairman. So 'Farewell', 'Thank you', 'Welcome' and 'Congratulations' are all in order.
Welcome, Paul Carter! Our new Chairman is a familiar figure at Kairos AGMs. He is a costs lawyer who has been a Trustee for 10 years. "I was introduced to Kairos by another Trustee, Gerald Barry, ­when we were school governors together." Kairos was a good fit for Paul and his concern for the homeless, "I was born and bred in south London – I'm a Bermondsey boy. I still know the boroughs our supported houses are in really well." He's looking forward to settling in to his new post, although he says his first priority is to continue Hanora's work. In fact, their first joint task was to ratify the annual budget.
Thank you, Hanora, who reflects here on her Kairos years…
\"Looking back on my time as Chairman, I cannot believe that it's been 12 years. Prior to this, the first Chairman of Kairos was Revd Peter Wheatley, an Anglican minister who left in 1999 to become Bishop of Edmonton. He was followed by Revd David Gerard, who held the post from 1999 to June 2004. John McAuley, who had helped in the early days in Stonhouse Street, took over 2004 and moved to the West Country into 2006, after which I took over.
\"I found Kairos in 1997 when Mossie Lyons became Manager of Bethwin Road and shortly afterwards he asked me if I would consider becoming a Trustee. Well, I say I found Kairos but, in fact, I believe that Kairos found me. It was not long after my husband died and life was pretty empty and without purpose. But Kairos worked its magic (which I have come to recognise so well) and provided me with a new purpose.
\"Kairos has also had lessons for me. As a qualified nurse, midwife and teacher, I thought I had a good understanding of people, alcoholism and addiction. I quickly recognised that I had only scratched the surface. Kairos went on to show me so much more about the human condition and the need for and response to "heart work" as well as hard work.
\"I recall going to Stonhouse Street in the early days, before accepting the invitation to join the trustees, and being overwhelmed by the laughter and joy all around me and the respect everyone had for each other; here was I, who had so much, feeling I had so little. It really was a reality jolt. And so began my love affair with Kairos. It was here I first met Fr John and was bowled over by his spirituality, the caring attention he paid to everyone and his sense of fun. I thought him unique and haven't changed my mind since.
\"Being Chairman of Kairos has not felt like a difficult job. We have talented board members who bring with them a wide variety of excellent skills that are used for the benefit of the Kairos. Likewise, Kairos is blessed with people – staff and volunteers – who believe in the work of Kairos, understanding the great need for it.
\"The work of the Trustees has also made easy by the excellent directors involved in Kairos: firstly, Fr. John, who set the scene and created the culture of Kairos; and Mossie Lyons, equally talented, who has taken over and continued to make Kairos an outstanding success. Both are good organisers, can manage change and grasp the opportunities others can't see. Both care deeply about people especially those who are marginalised and disadvantaged by present day society. They are also skilled in bringing together like-minded people such as the managers, counsellors, support workers and volunteers.
\"Finally, we can never forget how much we owe to those who come to Kairos for help and support, and we remember the joy and job satisfaction we get when we see the lives transform and blossom. Indeed, I would like to say a big thank all the Kairosians who have taught me so much during my time with Kairos.
\"As I step down to pass the duties of Chairman to Paul Carter, I know he will be equally as happy in the post as I was.\"
– Hanora Morrin, Trustee